Uppalapati Venkata Krishnamraju, who is known to Telugu movie fans as a rebel star, passed away at three o'clock in the morning today. Let's see what happened to him and Krishnam Raju cause of death in detail
Highlights
Entered politics with Congress Party in 1991

Election to Parliament from BJP in 1998 and 1999

Atal Bihari Vajpayee as Union Minister

In 2009, he joined the Praja Rajya.. in 2014, he returned to the BJP and was a rebel star
How did Krishnam Raju die?
According to family sources who spoke to IANS, veteran Telugu actor Uppalapati Krishnam Raju passed away at the age of 83 on Sunday, September 11. The death of the legendary actor, political leader and former Union Minister Krishnam Raju of the Telugu film industry has caused great sadness. He has been suffering from illness for the past few days and is undergoing treatment. Krishnam Raju breathed his last at 3.16 am on September 11th while undergoing treatment at AIG Hospital in Gachibowli as his condition worsened recently. Thus, Krishnam Raju cause of death was revealed at the Asian Institute of Gastroenterology in Hyderabad, India, as a result of massive cardiac arrest and lung collapse.
His wife and three daughters are still living. Prabhas, an actor, is his nephew. Krishnam Raju, who is referred to as the "Rebel Star" of Tollywood, has appeared in more than 180 films throughout a five-decade acting career.
What happened to Krishnam Raju?
AIG Hospital Reveals Reason for Krishnam Raju's Death: It is known that Tollywood senior hero Krishnam Raju passed away while undergoing treatment at AIG Hospital due to health reasons. But so far there is no proper clarity on how he died. Recently, AIG Hospital released a bulletin on this matter. AIG doctors announced that Krishnamraju passed away due to a heart attack.
The doctors stated that Krishnamraj had diabetes and heart-related problems from before and he was also suffering from lung disease. Krishnamraju's right leg underwent surgery last year. They claimed that one of the toes in the right leg was also removed. They stated in the bulletin that he was admitted to the hospital on August 5 last month suffering from post-covid complications and since then he has been receiving treatment.
Krishnam Raju cause of death
In this sequence, it was announced that pneumonia was caused by multi-drug resistant bacteria in the lungs and the kidneys were also completely failing, and they were being treated on a ventilator.  However, the AIG doctors said in a statement that he died at three hours and 25 minutes today due to his deteriorating health condition. There are chances that Krishnamraj's last rites will start at 11 o'clock tomorrow.
It is said that one of his daughters is abroad and it may take time for her to arrive. Krishnamraj's body will be moved to Krishnamraj's residence in Jubilee Hills before noon today. It is said that there is a possibility that his body will be moved to the film chamber during the funeral tomorrow morning. It seems that there is a possibility of keeping his mortal body for about an hour or an hour and a half for the visitors. But no official announcement regarding this has come. Thus, prolonged health illness was Krishnam Raju cause of death.
Prabhas and Mahesh reached the hospital
After hearing the news of Krishnam Raju's death, Prabhas and Mahesh Babu reached the AIG Hospital. Currently, all his family members are in the hospital. Later in the afternoon, the body of Krishna Raju Pardivade will be moved to the residence. Arrangements are being made for this.
A huge number of fans and close friends are likely to come to pay homage to the body of Krishnam Raju Pardiva. As there is not much space at his residence, the family members are thinking of moving his body to another place. They are planning to keep Krishna Raju Pardi's body in Kotla Vijaya Bhaskar Reddy Stadium. After bringing his body home, it is expected to keep it there for a while and move it to the stadium.
Who was Krishnam Raju?
Actor and politician Uppalapati Venkata Krishnam Raju lived in India from 20 January 1940 to 11 September 2022. He was well-known for his Telugu film contributions and was also popularly referred to as "Rebel Star" due to his rebellious acting approach. He also took home the first-ever Nandi Award for Best Actor. In his career, Krishnam Raju appeared in more than 183 full-length movies. He made his acting debut in the 1966 K. Pratyagatma film Chilaka Gorinka, which he also produced and directed. He won Five Filmfare Awards South and three state Nandi Awards. Additionally, Krishnam Raju was an active politician.
Awards 
Filmfare Awards South
Best Actor – Telugu – Amaradeepam (1977)
Special Jury Award – Dharmaatmudu (1983)
Best Actor – Telugu – Bobbili Brahmanna (1984)
Best Actor – Telugu – Tandra Paparayudu (1986)
Filmfare Lifetime Achievement Award (2006)
Political career
He challenged an unsuccessful election in 1992 from Narasapuram on a Congress ticket. After a brief hibernation, he rejoined politics, getting an invitation from the Bharatiya Janata Party.
He won the 1998 Lok Sabha elections from Kakinada. He set a record with a thumping majority of over 165,000 votes, the maximum majority as compared to any of the other constituencies in Andhra Pradesh which ensured him a berth at the center.
He was on the advisory committees of the Information and Broadcasting and Commerce and Industry Ministries during 1998–99.
1998 Elected to 12th Lok Sabha

1998-99 Member, Committee on Commerce Member, Consultative Committee, Ministry of Information and Broadcasting

1999 Re-elected to 13th Lok Sabha (2nd term) Whip, B.J.P. Parliamentary Party, Lok Sabha

1999-2000 Member, Committee on Finance Member, Committee on members of parliament Local Area Development Scheme

2000 Member, Consultative Committee, Ministry of Commerce and Industry

30 September 2000- Union Minister of State, Ministry of External Affairs 22 July 2001

22 July 2001- Union Minister of State, Ministry of Defence 30 June 2002

1 July 2002 – Union Minister of State, Ministry of Consumer Affairs, Food onwards and Public Distribution
Personal life of Krishnam Raju
Uppalapati Veera Venkata Satyanarayana Raju gave birth to Venkata Krishnam Raju on January 20, 1940, at Mogalthur, West Godavari district. Krishnam Raju married Seeta Devi in his first union; she afterward passed away.
He then married Syamala Devi on September 20, 1996, and the two went on to have three daughters together. His nephew is the actor Prabhas, and his younger brother is the director U. Suryanarayana Raju. Another nephew, Siddharth Rajkumar, made his acting debut in the film Keratam (2011). While working as a journalist, Krishnam Raju was employed by Andhra Ratna. He received the distinction of being the Second Best Photographer at the state level. Because he is so passionate about his hobby, he has a sizable collection of cameras. He is the owner of the production business Gopi Krishna Movies.
Tributes paid to legendary Krishnam Raju garu: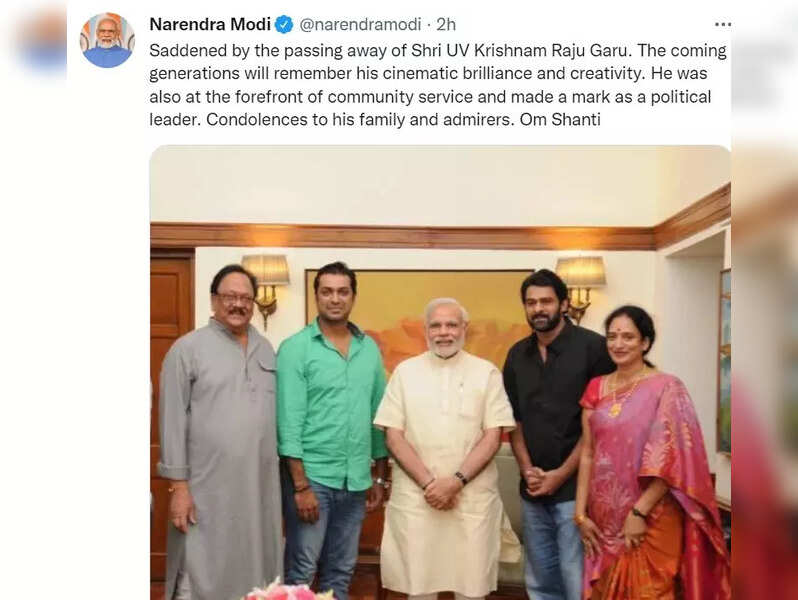 Saddened to learn about the demise of one of the most popular stars of Telugu Cinema, Rebel star Sri Krishnam Raju Garu

My wholehearted condolences to Prabhas Garu, his family members & friends

Rest in peace #KrishnamRaju Garu 🙏

— KTR (@KTRTRS) September 11, 2022
Deeply saddened by the news that legendary Krishnam Raju garu is no more. Grew up admiring his films and ended up admiring his personality also. His talent and contributions as a Hero, Producer, Central Minister, a Magnanimous Person, left an indelible mark in our hearts.
This can't be true. Such a great human being
 we will miss you dearly sir. Ur contribution to the film industry and the society Wil live on forever and ever. Om Shanti
#KrishnamRaju
garu. We will love you forever
keep reading,
Ironman Wales road closures: Everything You Need to Know
Queensland plane crash: What happened? How did the pilot die? Explained
Follow us on Twitter to get instant notifications on the latest news.
Lavanya (Senior Editor) is a full-time content writer with almost 5 years of experience and a part-time teacher. She joined Medico Topics on the Breaking News trainee scheme in 2022 and now works on MedicoTopics.com. As a lifelong learner, She is constantly curious about learning new things and passionate about sharing knowledge with people through her writing and teaching.