Saudi woman activist condemned to 34 years in prison for using Twitter. Let's see who is Salma al-Shehab and Leeds student's tweet ended in 34 years in jail
Who is Salma al-Shehab?
At the University of Leeds in Britain, Salma al-Shehab is pursuing her doctoral degree.
In the typically conservative and orthodox Sunni Muslim community, Shehab had freely tweeted about Saudi women's rights.
Salma's personal life
Salma wasn't a well-known dissident.
Salma describes herself as a dental hygienist, medical educator, Ph.D. student at Leeds University, lecturer at Princess Nourah bint Abdulrahman University.
As well as a wife and mother to her two kids, Noah and Adam, in the bio area of her social media accounts on Twitter and Instagram.
What did Shehab tweet?
Shehab, a mother of two, has 2,600 Twitter followers.
Shehab had publicly tweeted about the rights of Saudi women in the country's typically strict and traditional Sunni Muslim culture.
The most recent crackdown on rights advocates in Gulf countries includes her sentencing.
Like Shehab, several activists have received prison sentences.
What penalty did the court give her?
Due to her tweets, a Saudi Arabian court sentenced a lady to 34 years in prison.
Salma al-Shehab, the accused, was accused of assisting dissidents who sought to subvert the government's established order.
A Saudi appeals court has ruled against her and sentenced her to incarceration with a travel ban while she serves her term.
She was at home in Saudi Arabia on vacation when she was arrested.
The Saudi government blamed her for using an internet website to "cause public unrest and destabilize civil and national security".
Salma was given a three-year jail penalty initially but later it was increased to a 34 years prison sentence followed by a 34-year travel ban.
Joe Biden, the US President, visited Saudi Arabia a little less than a month ago and came under fire for going to a country with such stringent human rights laws.
When did Shehab arrest?
Shehab was detained in January 2021 while she was on vacation in the nation from the UK.
Shehab was first given a six-year sentence with a three-year suspension and travel restriction.
Her sentence was lengthened by the appeals court, which took a tougher approach.
Shehab, however, has the option to challenge the most recent judgment in a 30-day appeal to the Supreme Court of Saudi Arabia.
While this is going on, the London-based human rights organization ALQST has condemned Saudi Arabia's decision, calling it the longest sentence ever for a nonviolent campaigner.
According to the group's head of communications, Lina al-Hathloul, the punishment made light of Saudi Arabia's claims to have improved women's rights and its judicial system.
What did Shehab's friend claim?
Shehab's close friend claimed that because of the peaceful nature of her tweets, Shehab never imagined receiving any negative feedback.
Shehab was therefore taken aback by her detention.
Recently, the Crown Prince, Mohammed bin Salman, announced several measures that favored women as Saudi Arabia changed.
Common examples are removing the prohibition on driving and the requirement for headscarves.
These restrictions, meanwhile, are meaningless now that the monarchy has intensified its campaign against activists who advocate for breaking the law.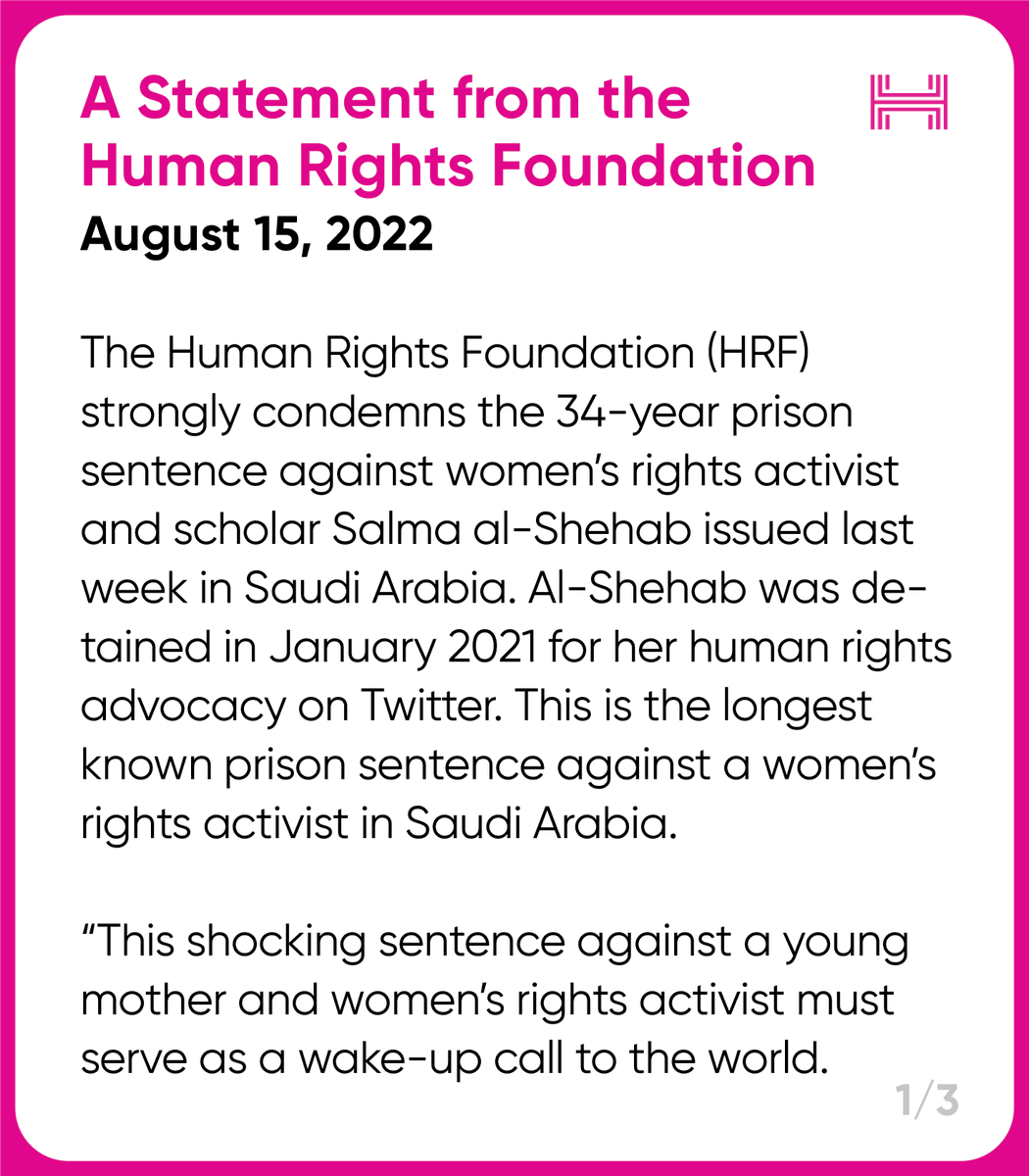 What happened to her in jail?
On the other hand, Salma could not stand injustice, according to sources acquainted with the situation who spoke to the Guardian news agency.
She showed her support for notable Saudi female activist Loujain al-Hathloul.
Salma has reportedly endured mistreatment in incarcerated and has been denied the opportunity to inform the courts of this.
What did court reports say?
Three days before she was allegedly detained in Saudi Arabia on January 12, 2021, she last updated her 2,700-follower Twitter account on that date.
She posted or retweeted several messages at the end of the previous month demanding reforms in Saudi Arabia and the release of well-known activists, clerics, and other intellectuals.
Shehab was first sentenced to six years in prison after being found guilty of breaking the nation's anti-terrorism and anti-cybercrime legislation late last year.
According to reports from the UK-based ALQST and US-based human rights organization The Freedom House.
Moreover, according to them, citing court records, an appeals court enhanced her sentence on August 9 to 34 years and added a 34-year travel ban that would begin after her release.
Several Young women were arrested following Salma
We've also heard reports that Salma was just one of the hundreds of young women who were arrested at the same time.
The punishment, according to Lina al-Hathloul, the communications director for ALQST and the sister of Loujain al-Hathloul, demonstrated that the Saudi government is still "hellbent on harshly punishing anyone who expresses their thoughts freely."
People reactions on Salma al-Shehab detention?
Women's Voices tweeted,
Salma al-Shehab, 34, mother of two, was initially sentenced to three years in prison for the "crime" of using Twitter to "destabilise national security". But an appeals court handed down a new sentence: 34 years in prison, and a 34-year travel ban.
Leeds University spokesperson told the BBC:
"We are deeply concerned to learn of this recent development in Salma's case and we are seeking advice on whether there is anything we can do to support her. "Our thoughts remain with Salma, her family, and her friends among our close-knit community of postgraduate researchers."
US state department spokesman said,
It was studying Shehab's case and that "exercising freedom of expression to advocate for the rights of women should not be criminalised". The Saudi government has so far not commented on the reports.
Rula Jebreal tweeted,
Salma al-Shehab, a Leeds University student, was sentenced to 34 years in prison for retweeting dissidents by use of Twitter. This sentence from the Saudi Dictator's terrorist court, for criticizing MBS' reign of terror (driven by blood & oil) IS, ITSELF, terrorism!
M.J. Salem tweeted,
All governments secretly wish they can control their people like the tyrants in Saudi Arabia. Let's show them that they can never control us by tweeting & retweeting anything critical of the monsters in Saudi Arabia for Salma. Let them try to put all of us in jail.
Keep Reading,
Accident in concord CA today: What happened? Explained
Who is Paul Brand? Meet the new GMB presenter along with Kate Garraway
Follow us on Twitter to get instant notifications on the latest news.