Are you curious about the social media site that is only available on mobile? Here what you need to know is as follows. There are several reasons to perhaps stop using Twitter and switch to a different social media site like the Hive Social app.
KEY POINTS:
The popularity of Hive Social also referred to simply as "Hive," is booming.
An increasingly popular alternative to Twitter is the mobile-only social networking app Hive Social.
Similar to Twitter, Hive Social enables you to publish messages, videos, polls, and other content to a chronological stream of followers.
Your phone number, email address, Google or Apple account, or any combination of these can be used to sign up for Hive Social.
---
Why Hive app?
---
There are several reasons to perhaps stop using Twitter and switch to a different social media site like Hive Social. Things have become quite crazy in the social media arena since Elon Musk bought Twitter.
Musk unbanned former president Donald Trump's account after he published a Twitter poll, albeit he hasn't used it yet. Kanye West, Jordan Peterson, and Andrew Tate have all been reinstated to the service by Musk after having previously been locked out or banned from Twitter.
But Musk has also let about half of Twitter's workforce leave, which has many people wondering if Twitter will genuinely shut down and never rise again.
Many people are signing up for various Twitter alternatives as a result of all these variables put together. Although Mastadon has been popular, Hive Social is currently generating a lot of attention.
A mobile-only site called Hive Social is attempting to imitate Twitter without using any algorithms. Although it has been around for a while, its popularity didn't really take off until late November 2022.
Here are the details on how to use Hive Social and how to sign up.
---
Hive Social: What is it?
---
Hive social doesn't appear to do anything particularly unique at first glance. You can submit messages or photographs and follow other users. It remarkably resembles Twitter.
The main distinction between the two is that Hive Social asserts that no algorithms are used to choose which posts you view. In other words, your feed is completely chronological and only displays posts to you in the order that they were posted. In contrast, other sites like Twitter prioritize content they believe you'll like based on your interests and daily routine.
Users cannot pay to boost their posts, and there are no blue checkmarks. The time when the posts go up is almost here. Additionally, you can Like posts to bookmark them for later or Repost other people's material to your feed.
Y'all we didn't expect this volume of traffic😯 We gained 130,00 users overnight. We're working on getting the servers back up. Thank you for all the love, we appreciate you guys! We'll post as soon as we're back. pic.twitter.com/cKrXEi2SgB

— Hive (@TheHIVE_Social) February 3, 2021
---
What makes Hive unique?
---
There are certain changes, but Hive is simpler than many other Twitter alternatives like Mastodon. The timeframe is possibly the most important.
Hive offers a simple chronological feed, which is fantastic compared to Twitter, which has gotten more and more sophisticated and algorithm-generated. Additionally, it lacks any kind of ability to boost promoted posts or blue checkmarks for verified users.
The absence of a desktop client is another distinction. Hive is currently only available as a mobile app. Not good. Additionally, users have a few more personalization options. If that's your thing, you can select your pronouns and display your astrological sign.
Even though it's not my style, I'm presenting it to try to blend in. Another strange feature is the ability to link your Spotify account and have a song play whenever someone views your profile. MySpace has returned, darling! Additionally, the app has a "explore" style section that does a decent job of presenting material you might be interested in. Later, more on that.
---
Sign Up Procedure
---
Download the Hive Social app for iPhone or Android to sign up. 

After that, you are prompted to complete all the usual registration requirements.

Create a profile.

Select a username and display.

To assist fill out the "Explore" area of the aforementioned app, users can additionally choose a selection of topics that interest them. 

I currently chose sports, technology, video games, anime, and a tonne of other things. 

The top of the explore area is filled with that, but as I scroll down, stuff from other themes also shows.

That's it.
---
Who is the founder of Hive Social?
---
Only two people currently own, build, and run Hive Social. Their identities, however, are kept a secret. According to the website for Hive Social, "Raluca" and an unidentified developer currently administer the platform, which they claim was developed by someone with that name. Kassandra Pop, a woman who claimed to have invented the app in a 2021 interview, could be Raluca. But everything is currently quite hazy.
Hive does appear to be managed by…two persons, which raises one huge possible problem. Yes, that's right; Hive was founded a few years ago by a college student who then hired…another college student. It doesn't appear that they have progressed much since then. A note posted on the app two days ago stated that only two employees are responsible for the app itself, marketing, design, and everything else.
Even though the fact that Hive was created and is still maintained by just two people is incredibly impressive, it also raises some serious concerns about its ability to scale. If you spend much time using the app, its drawbacks in comparison to much more established social media platforms become pretty clear.
The application has a frail, imminently breaking feeling. It feels technically unstable and frequently exhibits substantial UI and loading slowness. As more people join, that might get worse. Hive Social doesn't have a desktop version at all.
Since I use my desktop for at least half of my Twitter time, the lack of it is unfortunate. Because tweets cannot be threaded, it is simple to lose track of comments.
Hive postings can't seem to be embedded elsewhere. I only get a straight link when I share an article on Hive; I don't even get a thumbnail preview.
No one's name may be searched. Paul Tassi or "@paultassi" searches get no results; you must just search "paultassi."
Speaking of @ names, it appears that on Hive numerous persons can each claim the same @ name, raising the question of whether Twitter's new verification poses a problem with identity theft. Already, I'm noticing stuff like @Brand accounts that are unquestionably unrelated to the primary business. This could start happening on a large scale and turn out to be very bad if it continues to gain popularity.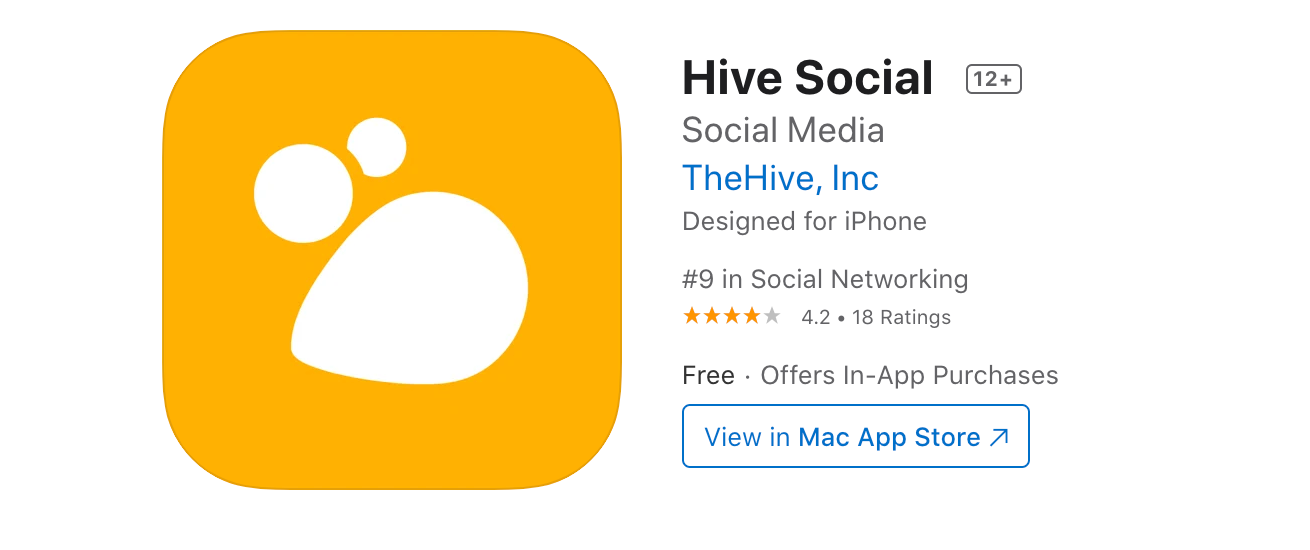 ---
Can it replace Twitter?
---
Hive sounds like a laid-back approach to seeing information from the people you follow rather than what an ever-changing algorithm chooses for you, although it's still early in the process.
There will undoubtedly be growing pains as the developers expand as a flood of people joins the latest fad. It hasn't yet completely changed how people use social media.
Instead, Hive incorporates features from other platforms into one that is often cohesive. It is more slick-looking than Cohost's simple design and doesn't require joining particular servers like Mastadon.
I've joined Twitter "replacement" app Hive. Looks like a neat blend of Twitter and Instagram. I don't think Twitter will die, but alternatives are fun to play around with 👋 come say hi I'm @tomwarren on Hive https://t.co/MD4apTtGZJ pic.twitter.com/nE3x3rRPjt

— Tom Warren (@tomwarren) November 21, 2022
The platform can only be accessed through the mobile app at the moment because there is no browser access.
Above all, it would seem that the developers are in favor of a satisfying social media experience. Anyone who has spent any time on Twitter is aware of its propensity for negativity and foul language. Of fact, many significant social media platforms suffer from this issue.
Hive may be the ideal solution if you're seeking a Twitter substitute without the ads and algorithmic changes. Although there is still a long way to go before it fully adapts to the recent surge in users, the early indications are encouraging.
We observed a movement similar to BeReal after Instagram switched to its Reels video strategy, so it is unclear whether the Hive zeal will last.
---
Public opinion toward HIVE SOCIAL
---
Me making a Hive profile while having no idea what it is pic.twitter.com/Flwyxxg13V

— Justin Randall (@imjustinrandall) February 3, 2021
This seems a little sketchy. https://t.co/trRc5Aozvf

— Brandon Paddock (@BrandonLive) November 21, 2022
Apparently the android version of hive is broken it won't let me upload any pictures

— angelface87 (@ang3lface87) November 21, 2022
that's fair. I feel similar and won't be leaving Twitter. Just gonna make sure I'm elsewhere too just in case 😳

— Tom Warren (@tomwarren) November 21, 2022
Is it Mastodon compatible? If not, then why not join a Mastodon compatible one? Feels far more sustainable and it's about time to open up the social web to innovation.

Actually: Eg @verge should expose its tweet-style notes as Mastodon content, totally doable technically

— Pelle Wessman (@voxpelli) November 21, 2022
I signed up just to check it out (as I have never heard of it) and it's absolutely brilliant!
So much better than Masterdon!!!

— Anarkii (@Anarkii_) November 21, 2022
Kinda sad they couldn't fix their appstore profile pic. Hope that's not an indication of their potential lack of attention to detail. pic.twitter.com/KRIePKL7H4

— Apricot Lennon 🐱🥙 (@earcity) November 21, 2022
Hearing hive is run by literally two people and seeing twitter migrate en masse and then seeing people complain about things they don't have yet (that they've literally posted they're working on right now) is part of the reason social media is so exhausting right now

— Love, Bluejay (@bluejayIRL) November 21, 2022
For anyone using the new @TheHive_Social please be aware that your @ username is not protected and anyone (literally ANYONE) can use it.

Be cautious.

I'm sure in future updates this problem will be fixed 💕 pic.twitter.com/SeCFhXRVsf

— valory pierce (@valorypierce) November 22, 2022
KEEP READING,
How did Geoff Wonfor die? Grammy award winning director cause of death Explained
How did Ki Joko Bodo die? Indonesian film actor cause of death Explained
Follow us on Twitter for more updates.