A woman who went for a stroll at a recreational area in north Phoenix and was reported missing has been found dead, according to police.
The deceased person with three small children was Jessica Adams Lindstrom. Jessica died tragically leaving her family and friends in disbelief and grief.
She had a contagious smile that could brighten any room and was a devoted wife, mother, and friend. Here is everything we know about Jessica Adams Lindstrom and her passing.
Jessica Adams Lindstrom was found dead
According to Phoenix Police, a woman who was last seen hiking in the Deem Hills Recreation Area on August 4 early in the day has been discovered deceased.
Jessica Christine Lindstrom, 34, was last seen in the vicinity of N. 51st Drive and W. Deem Hills Parkway, which is to the north of the intersection of 51st Avenue and Happy Valley Road, according to earlier claims by Phoenix Police.
Details regarding the discovery are still being investigated. According to a portion of the statement, nothing unusual has yet been found as a result of Lindstrom's discovery.
Missing Endangered Person

Jessica Lindstrom was last seen this morning hiking the Deem Hills Rec area near 51st Dr and Deem Hills Pkwy. Jessica is a 34 yr old W/F 506 135 with Bro/Blu. She was wearing a black tank top and neon yellow shorts. Contact PPD with any info. pic.twitter.com/iK74OVMlsP

— Phoenix Police (@PhoenixPolice) August 5, 2023
Jessica Adams Lindstrom MISSING case
According to authorities, Jessica Lindstrom hiked to a distant location. The Phoenix Police Department officially reported Jessica Lindstrom missing around 5:30 on Friday.
The victim was described as a 34-year-old white female who was 5 feet 6 inches tall and weighed 135 pounds in a news release. She was last spotted sporting a black tank top and a pair of bright yellow shorts. She had brown hair and blue eyes.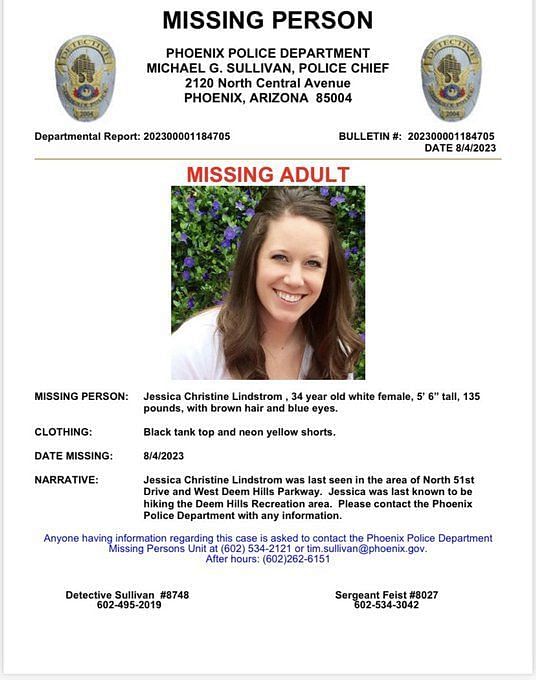 Police statement on Jessica's cause of death
Jessica Lindstrom, a missing hiker from North Phoenix, was found dead in the Deem Hills recreation area on Friday, August 4.
Officers said, around 8:30 a.m. on Friday, 34-year-old Jessica Lindstrom went for a walk at the Deem Hills Recreation area close to 51st Drive and West Deem Hills Parkway.
As of now, police have not discovered anything strange in connection with her death. According to Phoenix fire department officials, Lindstrom passed out from the heat. Phoenix FD says the preliminary report shows she passed away from the region's intense heat.
Lindstrom was the subject of a "missing endangered person advisory" from the Arizona Department of Public Safety.
As per the police reports, it is standard procedure to consider a missing person endangered if they are suspected to be outside during the summer, especially when there is a heat advisory.
Investigations are being conducted on this incident right now. Officials are awaiting the Maricopa County Office of the Medical Examiner's autopsy results.
A large group of Phoenix Police and people gathering at Deem Hills Park to search for a 34-year-old woman who never returned from a run this morning. @12News pic.twitter.com/Y1hfDAl3Il

— Gabriella Bachara (@GabbyBachara) August 5, 2023
Heat-related illnesses
According to CNN, Arizona's temperatures have risen to unsafe heights since July. Hikers have recently encountered days that reached 110 degrees Fahrenheit.
Due to the increase in heat-related ailments, hospitals are now experiencing crowds that are comparable to those during the Covid pandemic.
Emergency department physician Frank LoVecchio of the Valleys Health Medical Centre detailed the terrifying scenes at neighborhood hospitals during the heat wave in an interview with CNN:
"The heat is taking a major toll. The hospital has not been this busy with overflow since a few peaks in the Covid pandemic."
In addition to heat-related ailments, Dr. LoVecchio claimed that extreme heat also causes painful burns. He talked about how many patients who were experiencing ailments like dehydration would stumble and get hurt more on the heated ground. It is advised that while trekking, civilians take enough food, water, and sunscreen.
Condolences posted on social media
Cathy Wilson wrote,
So very sorry to hear this sad news. My heart goes out to her family, friends, and this community. 
Spencer Carr said,
Pfizer is probably the culprit but they will blame the heat.
Katie Mack said,
Sending love and light to her and her family! Praying for a positive outcome.
Debi Vucich James wrote,
Unfortunately, she was found deceased.. so sad Azfamily just put it out on the news.
Valerie Sanchez Spata wrote,
Very very very sad and heartbreaking!! Dear lord Jesus, please lay hands of comfort on her family and this community.
---
Adorable images of Jessica with her partner and kids
The news of Lindstrom's passing has left all of her friends and family, and our condolences go out to her family and her other loved ones.
---
KEEP READING,
Bob Murdoch death: How did the former Canadian Ice Hockey player die? Cause of death & Obituary
West Wichita crash: Kassandra Ramos, 22 year-old Wichita, KS woman died in accident on I-235
Follow us on Twitter for more updates.
Lavanya (Senior Editor) is a full-time content writer with almost 5 years of experience and a part-time teacher. She joined Medico Topics on the Breaking News trainee scheme in 2022 and now works on MedicoTopics.com. As a lifelong learner, She is constantly curious about learning new things and passionate about sharing knowledge with people through her writing and teaching.