On March 13, 2020, Breonna Taylor, a 26-year-old Black woman, was killed after LMPD carried out a no-knock warrant at her apartment. Let's see about four LMPD officers and why they shoot Breonna Taylor in detail
"Finally justice wins"
After two years of racial justice activism, the U.S. government on Thursday charged four active and former Louisville, Kentucky police officers.
For alleged federal crimes connected to the March 2020 killing of Breonna Taylor, a 26-year-old unarmed Black woman who was shot dead in her own home during an ineffective police raid.
According to U.S. Attorney General Merrick Garland, federal charges against Joshua Jaynes, Brett Hanikson, Kelly Hanna Goodlett, and Kyle Meanie include "civil rights offenses, unlawful conspiracies, unconstitutional use of force, and obstruction offenses."
FBI officers reportedly detained Jaynes, according to the Louisville Courier-Journal.
"The federal charges announced today allege that members of a Police Investigations Unit falsely certified the affidavit used to obtain the search warrant for Ms. Taylor's residence and that this act violated federal civil rights laws, and that those violations led to Ms. Taylor's death," Garland told reporters.
Who is Breonna Taylor?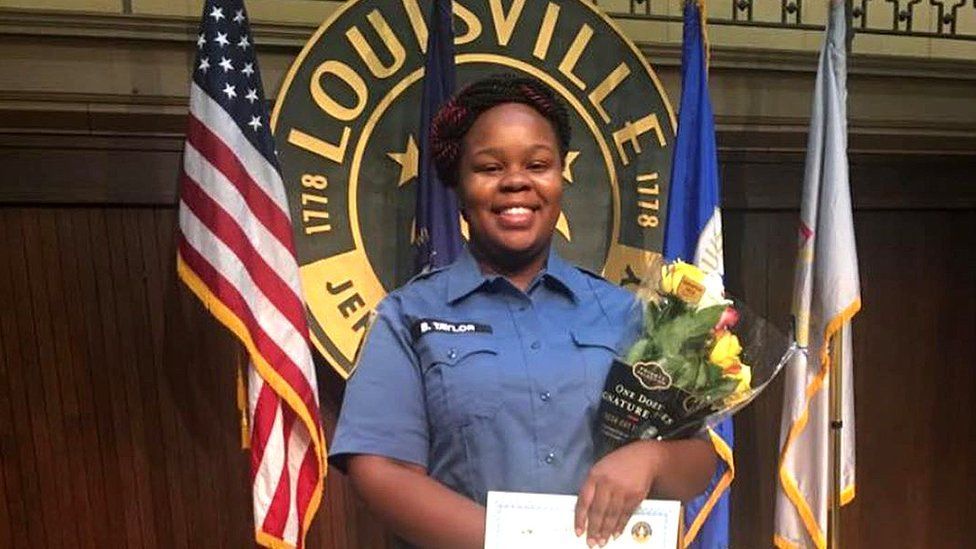 On March 13, 2020, Breonna Taylor, a 26-year-old African-American woman, was fatally shot in her Louisville, Kentucky, apartment after at least seven police officers broke down the door to search it as part of a drug dealing investigation.
Taylor was born in Grand Rapids, Michigan, and was raised there by her mother. Her obituary describes her as "full of life… and all it had to give."
Before becoming a certified EMT for the city of Louisville, where she worked on the front lines during the early phases of the coronavirus pandemic, she had left home to attend the University of Kentucky.
The day after, funeral services are held at Louisville's Greater Friendship Baptist Church.
LMPD released Breonna Taylor case internal investigation data
For the first time, we hear from the Louisville police officer who sought the search warrant that ultimately resulted in Breonna Taylor's demise.
He also discusses the grilling he experienced from colleagues inside his department regarding the method he used to do so.
The internal inquiry that was conducted after her shooting was made public on Wednesday by the Louisville Metro Police Department.
Thousands of documents and hundreds of recordings are included in it, many of which feature the officers who responded that March night.
One of the interviews is with Detective Joshua Jaynes, who was working on a drug case centered around Jamarcus Glover and Elliott Avenue and was a member of the LMPD's Place-Based Investigations Unit.
Who are the 4 LMPD officers?
Concerning Breonna Taylor's death, the Department of Justice has charged four former and present Louisville police officers, according to U.S. Attorney General Merrick Garland's announcement on Thursday.
FBI arrests current and former 4 LMPD officers in Breonna Taylor's investigation.
Former Louisville Metro Police detectives Joshua Jaynes, Brett Hankison, and Kelly Goodlett, as well as current Detective Kyle Meany, have been assessed with federal crimes for their involvements in the Breonna Taylor breakdown that concluded in her death on March 13, 2020.
The charges are for Civil Rights offenses, which is a federal crime. The set of charges includes obstacles for actions that allegedly happened after Taylor's death.
Background history of the raid
On March 13, 2020, Taylor's flat was searched as part of a bigger narcotics investigation.
When they heard a knock at the door, the 26-year-old woman and her boyfriend, Kenneth Walker, were at home.
Gunfire erupted when plainclothes detectives broke open her apartment's front door once they were in the corridor.
Taylor was shot numerous times, a cop was wounded in the leg. Neighboring units were hit by bullets.
Taylor's death sparked months of protests across Louisville, and added fuel to a nationwide movement around other killings of Black people by police, like George Floyd.
Until now, only one officer involved had ever been charged, Det. Brett Hankison, but he was acquitted of all charges earlier this year.
What was Jaynes accused of?
Jaynes is accused of lying in the testimony.
Jamarcus Glover, a suspected drug dealer, was reportedly picking up parcels at Taylor's residence, as Jaynes claimed he had confirmed through a U.S. postal inspector. He did not, however, independently confirm that data.
According to what he has indicated, Sgt. Jon Mattingly, another officer there the night of the raid, was the source of the information.
The internal inquiry revealed that Mattingly informed Jaynes that Glover was not receiving any suspicious shipments there, but Jaynes nonetheless noted in the affidavit that Glover had received packages at Taylor's house and inferred that they were a sign of drug trafficking.
Later, when police questioned him, he emphasized that he meant "any" packages, not only "suspect" ones.
Was it your intention to deceive the reviewing judge by the way you framed that particular bullet point in your affidavit?
In May, a PIU investigator inquired. "Not at all, no. And as I mentioned, I could have used a slightly different wording there.
But I make an effort to be as specific as possible. Or, on occasion, it's preferable to be less specific "Jaynes answered.
Two Shively police officers, however, who were questioned by the Public Integrity Unit, contradicted Jaynes' claims, claiming they had alerted other LMPD officers that no parcels were being delivered there.
Jaynes was accused of being dishonest about verifying information on the warrant testimony used to search Taylor's home.
He was fired from the department in January 2021 but had never been criminally charged until now. Jaynes had appealed the decision but lost that argument before the department's merit board.
Why did they shoot Breonna Taylor?
Plainclothes police, performing a search warrant, forced their way into the apartment where Breonna Taylor was in bed with her boyfriend, Kenneth Walker, shortly after midnight.
Mr. Walker fired a bullet from his licensed gun, later telling police he thought that Ms. Taylor's ex-boyfriend, Jamarcus Glover, had broken in. Officials say Mr. Walker's bullet struck Mr. Mattingly in the leg. The three officers returned fire, discharging 32 rounds.
Ms. Taylor was shot amid the fuss and died on the hallway floor.
The following police report had errors, including listing Ms. Taylor's injuries as "none" and saying no force was used to enter when a battering ram had been used.
According to his termination letter, Mr. Hankison was shot by the police after investigators found he had "wantonly and blindly fired 10 rounds" during the raid.
Mr. Mattingly and Mr. Cosgrove were reassigned to administrative duties.
The scene outside Taylor's apartment after the fatal police entry.
What happened when Breonna Taylor was killed?
Taylor, a Black 26-year-old emergency medical technician from Louisville, was tragically shot in her apartment. On March 13, 2020, during a search by narcotics cops in plain clothes.
Two police officers from Louisville shot Taylor after they forced open her front door and retaliated. When her boyfriend shot him with a firearm. Her partner shot his gun once and afterward claimed that he did so because he thought someone was breaking into the flat.
After one of the policemen was hit, the other two fired 32 rounds into the apartment, hitting Taylor five times. Drugs were not discovered during searching. After shooting an officer, her boyfriend was detained.
What happened after the year of her passing?
Breonna Taylor's family sued the police in a wrongful death action six weeks after her death. And the case was ultimately resolved for $12 million.
However, George Floyd's death in Minnesota and the publication of a terrifying 911 call from Taylor's boyfriend in late May increased national interest in the case.
At the time, her killing was slipping beneath the media's notice as the COVID-19 issue paralyzed society.
The police detective who secured the no-knock search warrant was let go in January 2021 after it was ultimately discovered to be invalid.
It was discovered that the officer had based the search order on an unproven claim that a drug-trafficking suspect was receiving mail at Taylor's flat.
Later, it was found by Kentucky's attorney general that the officer's use of force was justified since Taylor's boyfriend opened fire on them as they entered the residence. Charges of attempted murder against her partner were ultimately dropped.
Despite widespread complaints, none of the three cops engaged in the raid—Brett Hankison, Myles Cosgrove, and Joshua Jaynes—have been prosecuted for killing Taylor.
Three counts of wanton endangerment were brought against one officer, Hankison, for reportedly firing recklessly into Taylor's neighbors' apartments.
Restrictions on No-Knock Warrants
In connection with a drug investigation, a no-knock warrant was executed at Taylor's residence on March 13, 2020, which led to her death.
Her boyfriend Kenneth Walker shot at the police when they arrived at her home because he thought there was an intruder.
She was shot eight times when the police opened fire.
A grand jury decided not to indict any of the policemen in connection with Taylor's passing. For irresponsibly shooting into Taylor's apartment and a neighbor's house as well, one officer, Brett Hankinson, was charged with "wanton endangerment"; he was found not guilty on those charges earlier this month.
People reactions on the judgement report 
The FBI has arrested four LMPD officers involved in the murder of Breonna Taylor. Accountability is long overdue. We will never stop saying her name.
John Yarmuth tweeted
"Justice delayed is justice denied. But it's never too late to do the right thing. Despite Daniel Cameron's best efforts, accountability is finally coming for those responsible for Breonna Taylor's death. It's about damn time."
Edward Ahmed Mitchell said,
"We commend the Justice Department for pursuing federal charges against the officers involved in the killing of Breonna Taylor. When local officials like Attorney General [Daniel] Cameron fail to conduct proper investigations into police shootings, the federal government should step in to ensure accountability."
Keep reading,
Who is Anthony Doorhy? How did he die in Sligo waterfall? Explained
Who is José Paulino Pascual-Reyes? Why did he kill her girlfriend and her son? Explained
Follow us on Twitter to get instant notifications on the latest news.